Writing Regulations—Workshops and Book
1. Workshops—Pointing Your Writers Right
Boost compliance and enforcement. Cut confusion, frustration, mistakes, clarifications, and litigation. As you start to create or revise a regulation, our instructor meets with your content experts for several days of intense training and guided writing. They establish the structure and draft key text. Pointed right, your writers continue drafting at their desks, and then we edit everything for publication.

Leaders in plain-language regulations, we were early champions of techniques now widely accepted, among them sections written as "I" questions and "you" answers. If you're a federal employee, you probably have used some rules we've improved, such as the federal travel regulations.
You gain from our jump-starting many hundreds of regulatory documents for dozens of federal clients. At the U.S. Environmental Protection Agency, for example, we held workshops across the country as teams began revising regulations, guidance documents, and fact sheets into plain language. Later we edited their drafts. Dramatic improvement earned the EPA fan mail from the public. Four clients and our company earned awards from the Clinton White House.
2. Book—Next Best Thing to Workshops

Learn how our award-winning clients did it in Writing Readable Regulations. It's loaded with practical instruction and illustrated with many dozens of examples—all reinforced by classroom-tested exercises. This book is the next best thing to having us at your side as you write a regulation that helps readers find requirements quickly and understand them easily.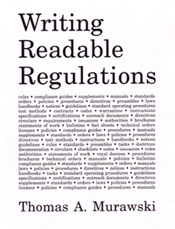 "I recommend this book to all drafters."
Professor Joseph Kimble,
Thomas M. Cooley Law School
"The public would be well served if Congress required regulators to use this book."
Professor Steven Schooner,
George Washington University Law School
OR
Send check to:

The Murawski Group LLC
8255 W. Sunrise Blvd., #212
Plantation, FL 33322